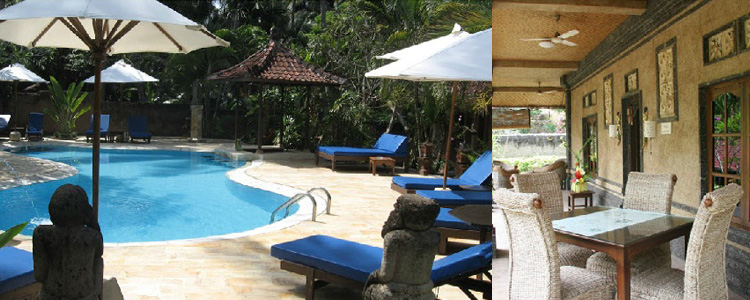 Dasa Wana means ten temples. It's unique name for a resort which surrounded by forest. This resort has good atmosphere to stay and cool nuance. Dasa Wana Resort has a good restaurant, a nice swimmingpool with easy chairs and parasols. To enjoy the beach, you just have to cross the road. The resort staff will guide you and help you to find what you need for your holiday in this resort.
Dasa Wana Resort is small but cosy resort in a quite seaside village of Candidasa. This resort has 3 superior rooms for 2 persons each and 1 superior room for 3 persons. Here the guests can use the communicating door to use these 2 superior rooms as family room and thus for 5 persons. Those cosy rooms are comfortable and completely furnished each with a small kitchen with fridge, coffee maker or watercooker, toilet, shower with hot and cold water, washstand with hot and cold water, sleeping room with 2 space beds of 1 kingsize-bed, dressing table, table and chairs, wardrobe, TV, and airco. Each room has a terrace with chairs.
Dasa Wana Resort consist:
3 superior rooms for 2 persons each.
1 superior room for 3 persons.
4 bungalows for 2 persons each.
1 family bungalow for 4 persons.
Two superior rooms are suitable for 5 persons when using the door between them.
The superior rooms have a living/bedroom with two large beds, putting them
together gives you a king size/queen size bed. A bathroom with toilet, shower and wash table (warm and cold water).
The bungalows have a bedroom (two large beds or one queen size bed). A living room and a bath room, same like the superior rooms. Also there's a small kitchen in the bungalows.
The bungalows all have a refrigerator/mini bar, coffee and thee facilities, television and air conditioning. Also each house has a nice veranda where you can enjoy sitting in the shade.
Dasa Wana Resort
Jl. Raya Candidasa
Candidasa/Karangasem
tel. +62 363 41444