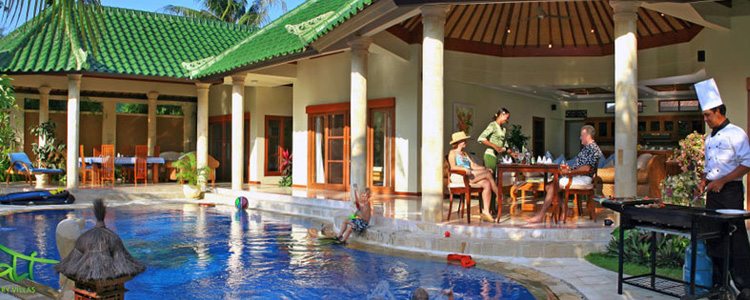 You are cordially invited to indulge yourself at your own private First Class Bali Luxury Emerald Villa on the "Best Island" in the world  which include the following V.I.P. features.
By a Balinese chauffeur directly to your Villa in a modern air-conditioned vehicle. As you enter the front gates you will realize that the Emerald villa complex is first class which is usually only the prerogative of the rich and famous.
At Emerald Villa, there are Magnificent architecture, spacious grounds and exquisite tropical landscaping.  Private nine Mtr. (30 ft.) – long infinity private swimming pool.
Facilities:
PROFESSIONAL CONCIERGES & FULL TIME PRIVATE MAID
FREE LAUNDRY & UNPACKING
LARGE BEDROOM'S WITH ON-SUITE BATHROOM
FULLY EQUIPPED KITCHEN
WALKING DISTANCE TO WHITE SAND BEACH
WATER SPORTS CLOSE BY
FIRST CLASS RESTAURANT& BAR
ROMANTIC VILLA DINING
VILLA MASSAGE & SPA SERVICE
24 -HR. SECURITY: CABLE TV & BROADBAND
Bali Emerald Villas
Jalan Karang Sari No. 5
Sanur Bali 80228 Indonesia
Phone : 62-361-284069
Fax : 62-361-270143
Mobile : 62-361-7436378
Skype : baliagents