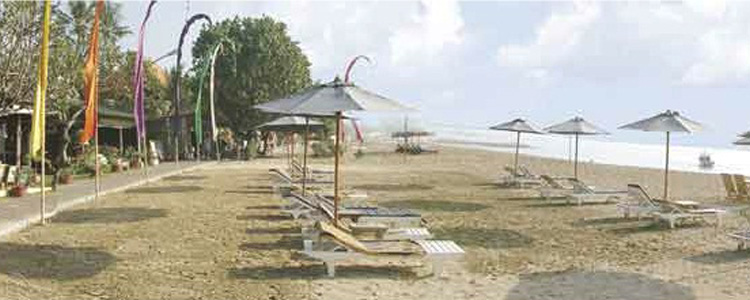 Gazebo Beach Bali is one of interesting cottages hotel in Sanur beach area, Bali. This cottage hotel offers beach view featuring white sand and clear blue waters and completed with Balinese style accommodation. By stay and enjoy holiday in this hotel, the visitors can also enjoy the beautiful sunset of Sanur Beach.
The rooms are designed in Balinese style and divided into some type, such as; 27 Deluxe Room ( Cottages Style and Building Style ), 8 Mezzanine Studios, 12 Family unit, 26 Gazebo Suites  (cottage style and building style) and 3 Joglo.
The Gazebo has facilitated with three swimming pools for the visitor's enjoyment. The larger one is designed to be used by adults and the smaller pool is a children's pool, whilst another garden side pool offers a quieter alternative. While the other facility is restaurant and bars.
Gazebo Patiserrie
* Patiserries
Enjoy freshly baked bread, cake, brewed coffee or sumptuous meals in air conditioned or all fresco dining rooms
* Bar
Fun and friendly atmosphere with wide range of speciaty drinks and intimate garden courtyard
* Daily (from 16.00 pm to 17.00 pm) You will be served complimentary tea and coffee.
Jl. Danau Tamblingan no. 35-37, Sanur,
Denpasar – Bali – Indonesia
Ph: (62) (361) 289060, 288212
Fax (62)(361) 288300