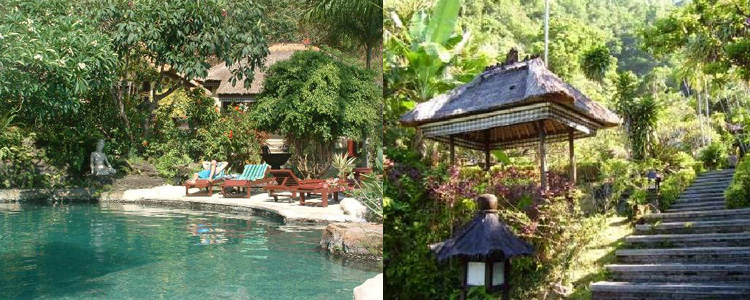 East Bali area is one of fantastic tourism area in beautiful island of Bali. There are many popular tourism object there, such as; Tenganan, Besakih Temple, Tirta Gangga, Amed, Tulamben, Goa Lawah, Padang bai, Nusa Penida & Nusa Lembongan. Supported those wonderful tourism objects, hotel is needed. Many tourists like to enjoy Bali tourism and wish to stay longer in a comfortable hotel.
Located in Central of Candidasa, Kubu Bali Hotel is sculpted into the side of a valley scooped out of the mountainside by the same volcanic cataclysm which gave Bali to the world. The sights and sounds, the fragrance and harmony of Bali are all here.
Each cottage has its own secluded terrace with views out over the landscape of colourful foliage to the contrasting blues of sea and sky and islands beyond.
Kubu Bali may become one choice for the tourists to enjoy their holiday at Candidasa, East Bali. It has 20 spacious guest room, furnished to a luxurious standard, have private bathrooms, hot and cool running water, air conditioning, refrigerator, telephone, sun bathing and ceiling fan. Kubu Bali has also a multi-pavilion-restaurant with its own vast swimming pool for guests and day-trip-pers. The hotel also has two swimming pool, tennis table and badminton court for the sport lovers.
KUBU BALI HOTEL
Candidasa, Karangasem, Bali, Indonesia
Phone : (62-363) 41532 , 41256 Fax : (62-363) 41531