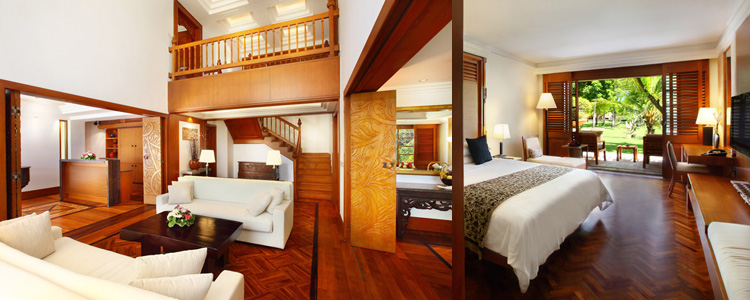 Nusa Dua hotel is 5-stars beach hotel that located minutes away from the Bali Ngurah Rai International Airport. This luxury hotel has welcomed Kings and Queens, Presidents and Prime Ministers. Furthermore, all guests like to stay here longer because they get interesting holiday experience in Nusa Dua, Bali.
Nusa Dua Beach Hotel & Spa has 381 guestrooms. Each rooms suites embody the elegance of classical Balinese interiors, traditional artifacts, rich textiles and delicately carved wooden furnishings.
Nusa Dua Beach Hotel offers a wide range of facilities & services.
* Nusa Dua Spa
* 24-hour Room Service
* Five restaurants and four bars
* Banquet facilities and a cultural theatre
* Arrival and departure lounge
* Laundry & dry cleaning
* Gym & fitness center
* Players Games Room
* 150-meter white sandy beach
* Baby-sitting service
* Gecko Kid's Club
* Medical clinic with 24-hour doctor on call
* Lobby shop – for basic essentials and last minute gifts
* Shopping arcade
* Business center with broadband internet connections
* Tour & travel counter
* Bank and ATM machine
* Swimming Pools: main pool, lagoon pool, children's Pool and spa lap pool
* Expansive gardens
* Water sports counter
* International TV channels
* Voicemail telephone system
* In-room electronic safety box
* Hairdryer
* 18-hole international championship golf course close by
* Religious services – Catholic, Protestant & Islam – please check with concierge for the schedule of religious services available near by
Nusa Dua Beach Hotel & Spa  
T +62.361.771210  
F +62.361.771229