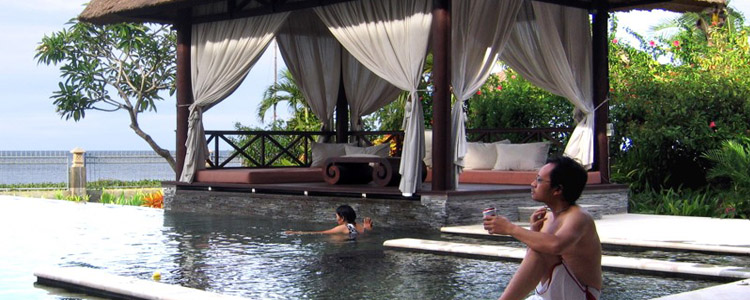 Lovina Beach is one of Buleleng tourism areas which is located about 9 km from Singaraja town. Unlike Kuta and Sanur beaches, Lovina Beach is not suitable for sunbathe because there are many boat (small boats) that line on the edge of the beach. These canoes are used to see the Dolphins attractions in the morning.
But, the interesting of Lovina is its white sand spread around the beach, calm, safe and beautiful beach. This beach tourism also completed with such kind of accomodation and entertainment venues like restaurants, bars, live music, villa, resort and so on. Many tourist visit this beach tourism and having holiday activities like diving, tours, trekking and so on.
Bali Vnew is one of luxury villa in Lovina beach area with tropical garden view. This villa has many great spots to relax, read, soak up some sun, and drink some cool drinks. It rent complete 3-bedroom villa with terraces and pools, but if the guests request for special service, they can also get villa include a fourth bedroom from the guesthouse behind the villa.
Bali Vnew is tranquil villa in Lovina, Bali which has 40 metres of beachfront onto a beach that is excellent for swimming.
Jalan Tulip L1B
Temukus – Lovina
Bali
Indonesia
P. +62 81 337 627 277
F. +61 2 8246 6343