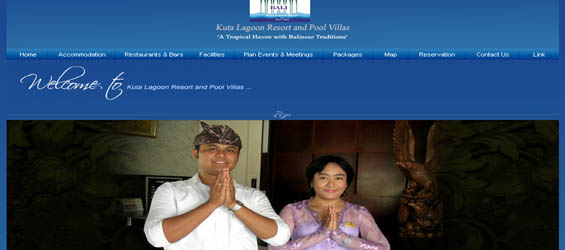 One of luxury resort in wonderful island of Bali is Kuta Lagoon Resort. This resort is located in tourism beach of Kuta which often visited by many tourists. Then to support this beautiful beach, the beautiful resort has build. Kuta Lagoon Resort has completed with pool villas and Balinese decoration. The accommodation is also interesting and unique, like; Lagoon suites, 64 rooms with the categories of Standard, Deluxe and Pool Access; has 5 Private Villa and 12 Private Pool Villa.
The visitors can relax around the resort and enjoy their holiday in Bali. Besides, this resort is also perfect for business meeting or another meeting packages.
Kuta Lagoon Resort has facilitated with spa & aromatherapy, gym room, internet service, mini library, cheap mart, and so on.For the resort packages, the resort also present two interesting packages, they are honeymoon package and luxury fantastic holiday. Visit the beautiful Bali island and stay in comfort resort of Kuta Lagoon Resort now!
Kuta Lagoon Resort and Pool Villas
Jl. Raya Legian 363, Legian – Kuta, Bali 8036
Phone : (62-361) 750888
Fax : (62-361) 750815