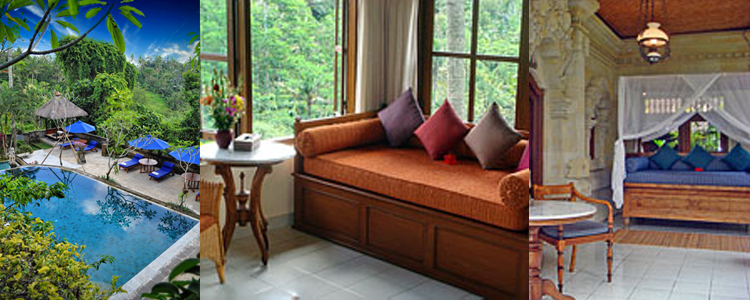 Alam Indah is one of comfortable guest houses in a village at Bali area which sets in Balinese atmosphere so the guests can enjoy the real Bali nuance. It surrounded by idyllic views looking out to the sacred land of the Monkey Forest temple. So natural and cool with green view around and equipped with complete facilities which will make the guests feel comfort. It perfect for those wishing to discover an enchanting and peaceful experience.
Alam Indah is located in a famous city of Bali, Ubud and just a 10 minute walk through the forest brings you to Monkey Forest Road. To make the guests feel the real Balinese atmosphere, Alam Indah has completed with 10 guest accommodations which each individually appointed in their own style combined with traditional Balinese architecture.
The other intimate guest house which in a group with Alam Indah is Alam Jiwa and Alam Shanti. Still in Monkey Forest area, those guest house are completed with swimming pool and Alam Wangi Spa. On the other hand, the guest can enjoy the Balinese food and interesting adventure activity with the guide.
Alam Indah Ubud
Telephone:
+ 62 (0)361-974629
FAX:
+ 62 (0)361-974629
Postal address:
P.O. Box 165, Nyuhkuning, Ubud 80571, Bali-Indonesia