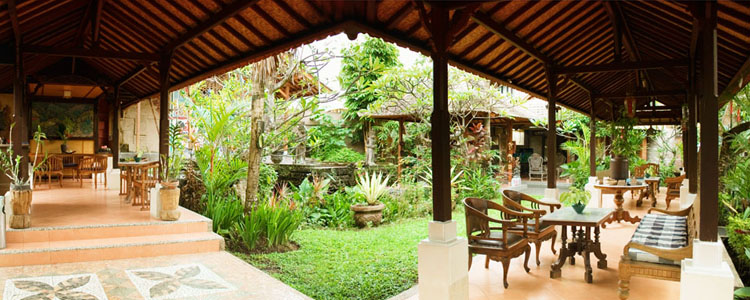 Taman Harum Cottages is Balinese cottages which built in a natural village which surrounded by the exquisite rice paddies field. The atmosphere around cottages bring its cool and breezy of the rice field, make the guests to stay longer in cottages. Taman Harum Cottages has seven traditional rooms and cottages scattered in the rice fields and lush tropical gardens. Room design, decoration and painting all filled with Balinese architecture. Taman Harum Cottages provides all the modern comforts expected by international travelers to stay here. All are air-conditioned and have exotic garden bathrooms, describes the essence of the tropics.
Taman Harum complex consists of 17 lovely rooms, reception pavilions restaurant, bar, swimming pool with a view of rice paddies, yoga/meditation room, aerobic class, woodcarving studio & workshops and a Balinese compound where we arrange tuition, classes and cultural activities.Taman Harum Cottages is a place where visitors can get a unique learning experience of the culture and way of life in Bali.
Taman Harum offers guests a wide range of cultural activities, including Balinese dance & music, cooking, batik painting, woodcarving, temple offering, rice paddies walking and so on.
Taman Harum Cottages
Jalan Raya Mas, Ubud, Bali, Indonesia
Phone : (62-361) 975567 , Fax : (62-361) 975149