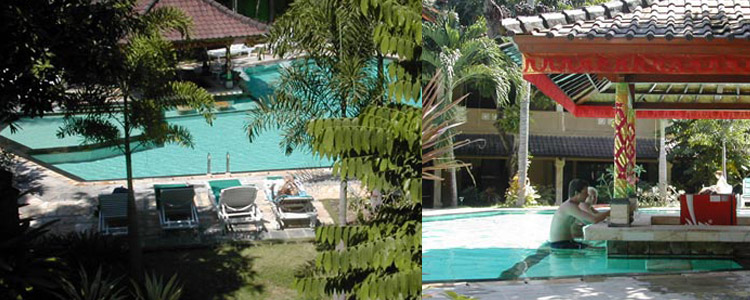 Spend holiday in Bali island is the most option for all people. Support with Bali's facility and its various kind of accommodation, make people stay longer there. Bali has many hotels and restaurants which has prepared to welcomed the tourists. You just need to choose which hotel that make you interest and stay there to spend your holiday.
One of beautiful cottages in Bali which has beach view is Balisandy Cottages. It is located in Kuta beach area which quiet, safe and peaceful. Balisandy Cottages features 55 comfortable rooms. Each room are furnished with split air conditioning, color Tv, hot and cold water, shower, bath tub and telephone. Besides, this cottages also provide swimming pool, restaurant and also the friendly staff.
The visitors can also having massage in the cottages and having relax in pool side bar. Balisandy Cottages presenting a genuine Balinese atmosphere, it's the perfect choice for a great holiday in the island of God's.
Balisandy Cottages
Pantai Kuta Poppies Lane II
Phone : ( 0361) 753 344 ( hunting )
Fax : (0361) 750 791